Art Show & Sale:
April 7th through April 29th
"Other People,
Other Places"
Featured Artists:
Mary Amicarella, Pat Everett, and Judith Frost

"For Hire - England" by Mary Amicarella
"Waning Light" by Judith Frost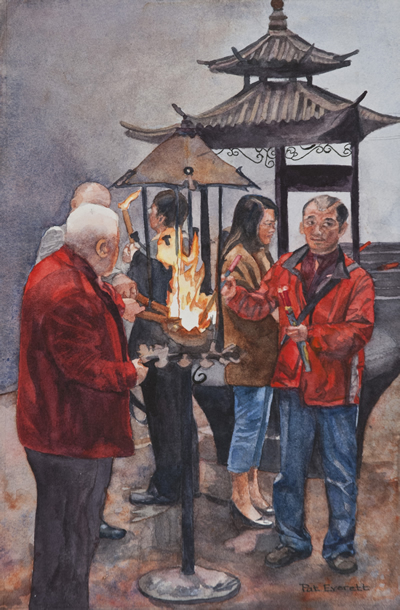 "Lingyin Temple" by Pat Everett
The three Fine Artists in this April exhibit travel extensively. Their art captures not only visual impressions of their travel sites, it also reflects each artist's personal response to the people and places they visit. Where they've been and how it's affected them is made all the more interesting because each artist uses a different artistic technique to record those visits.
Mary Amicarella is a master in the use of pastels. She is also someone who grew up in culturally and ethnically diverse neighborhoods. Her richly colored, subtly nuanced pastel paintings reflect her affinity for the variety that can be found in the landscape and the people of different countries. Whether her travels take her to St. Petersburg, Russia, or the British Isles, or the little Italian town of Acciano, her artist's eye catches the essence of each place, and the people who define it.
Pat Everett is intrigued with the dramatic effects of sunlight and shadow. Whether the subject matter of her crisp watercolors is a flower in her garden on the Everett family acreage, or the angles of a temple in the Far East, Pat uses transparent glazes and a discerning eye to bring out the unique elements of each subject. Her years as a teacher bring a sharp clarity to her art, enabling the viewer to learn more about the subjects she brings to life with her skillful use of brush and paint.
Judith Frost's studio is close to Washington state's Puget Sound and the Nisqually Wildlife Area. It's a perfect fit for an artist whose lyrical oils do sensitive justice to the intricate shapes and patterns in those striking surroundings. Whether its Washington, or coastal Oregon, or other rural areas in our vast country, Judith's beautifully articulated paintings are her personal tribute to our disappearing wetlands and farmlands, and the iconic buildings that populate that lush landscape.

Meet all three Fine Artists at the Orland Art Center Gallery's Artists Reception: Friday, April 7th, from 3 to 7 p.m.