Art Show & Sale:
July 7th through July 29th
"Wanderlust"
Featured Artist: Karma Boyer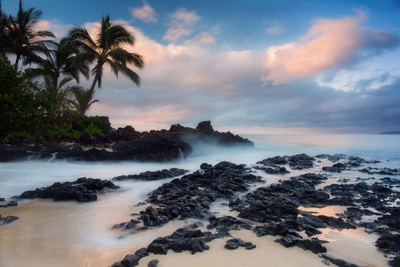 "Secret Cove Sunrise, Maui" by Karma Boyer
"Bass Harbor Head Light, Maine" by Karma Boyer


"Strolling through Chartres" by Karma Boyer
World traveler Karma Boyer is an accomplished Fine Art photographer, in addition to being a musician and a physical therapist. This wide range of talents allowed her the opportunity to indulge her passion for travel and nature.
As a child growing up in Washington state, Karma traveled by car with her parents throughout the states, kindling a love of travel that is with her still today. Attending college on a music scholarship, she spent her sophomore year in Lancaster, England, with school holidays spent traveling by train throughout Europe.
After graduation, volunteer work at a health center in Thailand enabled her to travel to Malaysia, South Korea, India and Myanmar. Returning to the states, she became a contract physical therapist. This enabled Karma and her husband to travel to Yellowstone, Glacier, Mesa Verde, Niagara Falls, and the Florida Keys.
Settling in California and living close to the mountains and the ocean, Karma found photography provided the perfect combination for her creativity and love of travel. In 2005, she began seriously honing her photographic skills with classes and books, all the while developing her ability to look through the lens with an artist's eye.
Recent trips have taken her to India again, as well as Hawaii, France and Norway, with stops in Utah and all parts of California. Many a morning is spent capturing a sunrise, and it's not uncommon for dinner to be late while Karma waits for just the right light for a sunset shot. That kind of dedication and talent is clearly evident in the amazing artistry of the photos displayed in the Orland Art Center's July show.
Meet this delightful world traveler and Fine Art photographer at the Gallery's Artist's Reception: Friday, July 7th, from 3 to 7 p.m.