Art Show & Sale:
June 2nd through June 24th
"Life Views: Personal Perspectives"
Featured Artists:
Janet Flanagan and Nanci Sackett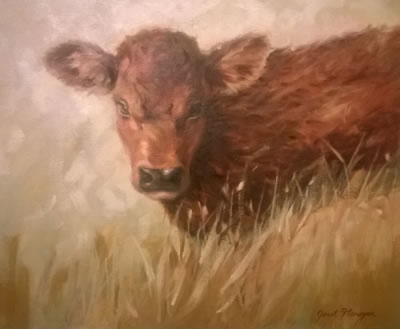 "Little Red" by Janet Flanagan
"Evening in Tuscany" by Nanci Sackett


"Staying Close" by Janet Flanagan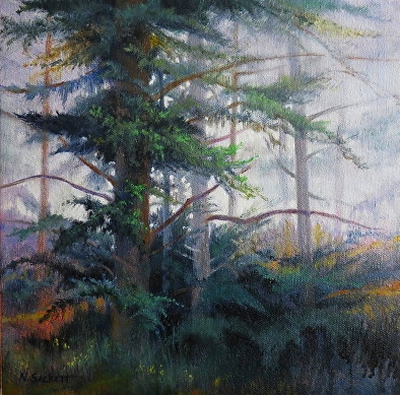 "Lost in the Fog" by Nanci Sackett
One thing Janet Flanagan and Nancy Sackett have in common is their love of the world of nature. Whether it's Janet's powerful paintings of wild and domestic animals, or Nanci's paintings of the subtle reflections in a mountain stream, both artists clearly convey a genuine appreciation and respect for the inherent beauty of animals and nature.
Janet Flanagan uses oil paint to capture bold backgrounds behind the people and the animals that grace her canvasses. Her work is exhibited in numerous galleries throughout California, and her commissions include a large mural for the California State Parks and a bronze sculpture for the Los Angeles Athletic Foundation. Her current focus is on African Wildlife, with particular attention paid to the dramatic differences in expressions and movement that characterize each animal. Janet hopes her paintings increase awareness of our wildlife and our planet.
Because Nanci Sackett looks for the nuances of color and light in nature, she prefers plein aire painting. It allows her to capture the shifting shadows and subtle shades of color in everything from a patch of wildflowers to the evening light on a stark mountainside. Her studies with such noted painters as Robert Bateman and Albert Handell helped hone her natural talents. In addition to numerous one person exhibits, her award winning work appears in many private, public and corporate collections throughout the United States, Canada, and Europe.
Meet both Fine Artists at the Orland Art Center Gallery's Artists Reception: Friday, June 2nd, from 3 to 7 p.m.