Art Show & Sale:
May 5th through May 27th
"Impressive Impressionism and More"
Featured Artists:
Rick Ingraham and Vince Walsh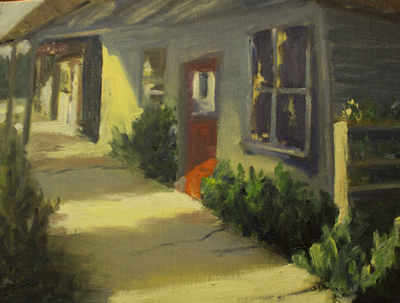 "Locke Town Late Afternoon" by Rick Ingraham
"Green Pastures" by Vince Walsh


"Semi-Retired" by Rick Ingraham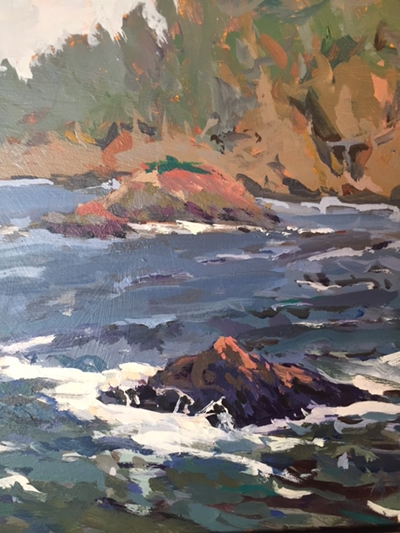 "Mendocino Seascape" by Vince Walsh
Both of these Fine Artists have one thing very much in common. Rick Ingraham and Vince Walsh want the viewers of their paintings to bring their own experiences to the process. They want viewers to be curious about what it really might be like to be on a rocky beach when the weather is rough. They want the viewer to wonder why the town in a certain painting seems so mysteriously quiet. In other words, they invite the viewer to participate in the painting.
Rick Ingraham paints in a very Impressionistic style, purposely leaving areas loosely defined, allowing viewers to fill in with their own experiences. Rick is more interested in the possible stories behind the subject matter of his paintings than he is in the actual subject itself. His artistic training covers the gamut of traditional teachings. After working with a variety of mediums, such as pastel, watercolor, charcoal and acrylics, he found oils gave him the elasticity he needed to capture the stories of the subjects he paints. For that reason, Rick most enjoys working on location, as a plein air painter, and most of his finished paintings in this show are actually completed, or nearly completed, on site. No wonder they feel so alive.
Vince Walsh likes to describe his artistic approach as a blend of Realism and Impressionism, with the emphasis on a very painterly result. His work also is often plein air, and he draws on a rich background of experience in the arts. He is a member of "The Valley Sun Catchers" and other active Plein Air painting groups, in addition to being involved with the Tracy, California Art League as a past president and current vice president. His work has been shown in a variety of venues in California, winning awards in the process. Vince teaches oils and acrylics at the Grand Theatre Center for Arts in Tracy, and encourages his students to strive for paintings that encourage viewers to bring their own reality to what they see.
Meet both Fine Artists at the Orland Art Center Gallery's Artists Reception: Friday, May 5th, from 3 to 7 p.m.