Art Show & Sale:
September 1st through September 23rd
"A Marvelous Media Mix"
Featured Artist: Denise Granger Kerbs

"The Chosen" by Denise Granger Kerbs
"After the Branding" by Denise Granger Kerbs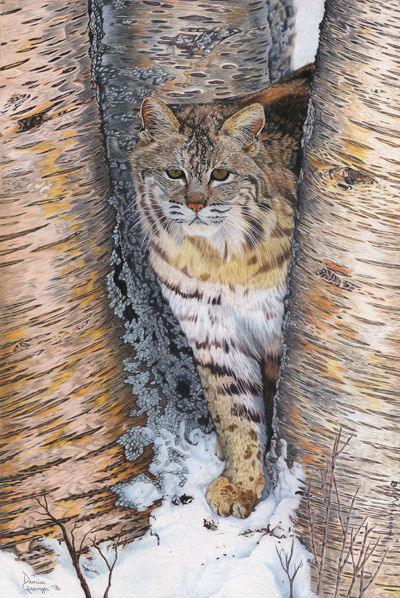 "Through the Birches" by Denise Granger Kerbs

"Should I ?" by Denise Granger Kerbs
By the age of 12, Denise Granger Kerbs knew her lifelong passion would be art. The sixth of seven children, Denise was creating constantly, drawing and painting with whatever mediums happened to be at hand.
She believes her ability to capture the subtle nuances of every subject is the result of growing up in a large family. Early on, Denise learned to go beyond the obvious traits and recognize the subtle personal differences in each of her siblings. That skill translated directly into her art. In approaching any subject for a drawing or painting, she seeks to focus on whatever small elements enable her to capture the life and fervor of each individual subject. "For me," Denise states, "that's where my search for truth lies."
Basically self-taught, Denise Granger Kerbs, while raising a family, also continued her artistic education with several semesters at different junior colleges, in addition to receiving a Bachelor of Art degree from California State University, Chico at the age of 47. One year later, she earned her teaching credential. Her passion for teaching is as strong as her passion for her art. Denise describes her approach to teaching in this way, "I'm teacher and student," she says. "Because every artist from beginner to professional has their own unique perspective and aesthetic and "I'm inspired by the way art moves in each of us."
Her range of facility in so many diverse mediums is amazing. She skillfully uses watercolors, pastels, graphite, acrylics and her newest medium, alcohol inks. Her subject matter is equally varied and she honors each artistic subject with close attention to its subtle characteristics. Denise Granger Kerbs is a multi-faceted artist, as her exhibition at the Orland Art Center Gallery clearly demonstrates.
Meet this exceptionally talented artist at the Artist Reception: Friday, September 1st, from 3 to 7 p.m.