Art Show & Sale:
March 3rd through March 25th
"March Musings"
Featured Artists:
Nancy Barnes, Beth Camper, Robert Hudson,
Pratima Patel, and John Norman Stewart

"Flowerlike" by John Norman Stewart
"Citrus Dance" by Pratima Patel


"Olympic Torch" by Nancy Barnes

"Shadows" by Robert Hudson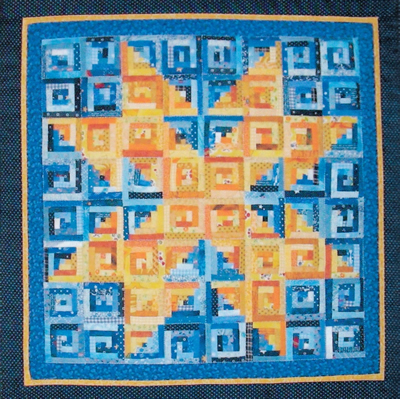 "Log Cabin Star" by Beth Camper
These five artists' backgrounds are as different from one another as their work is different in style and technique. What they each have in common is a love of art and a desire to communicate in their own personal way.
Nancy Marie Barnes enjoys working in a free-form technique, using black ink on white paper to create intriguing abstract art with economy and grace. A retired School District superintendent, Nancy's art career began in the late seventies and continues strong to this day.
Fine Art quilter Beth Camper began her artistic career by watching and learning from her mother, an accomplished quilter. Working from basic patterns, Beth moved to more challenging work, eventually creating her own original designs. Her meticulous craftsmanship and creativity make her quilts true works of art.
Robert Hudson's admiration for the great Italian master painter Caravaggio is clearly evident in the way he uses the dramatic effects of light and dark values. Whether he's using oils or pencil, there is a powerful simplicity in Robert's compositional style, resulting in a strong emotional appeal in all mediums.
Born and raised in India, Pratima Patel's life led her on a meandering path that brought her thousands of miles from her home to a life in this country. It was here that she also discovered the joy of expressing herself artistically. Her delicately designed paintings reflect the artist with a refreshing clarity.
John Norman Stewart's art career includes a 25 year stint as a scenic and portrait artist for the entertainment industry. His portraits include stars like Bette Davis and Brian Keith, and special projects for Disney studios. His artistry ranges from crisp realism to whimsical abstraction, with the latter gracing our gallery this month.

Meet all five Fine Artists at the Orland Art Center Gallery's Artists Reception: Friday, March 3rd, from 3 to 7 p.m.