Art Show and Sale: April 5th through May 25th
"The American West Experience"
"Featured Artists: Cheryl Caldwell and Jamie Means"
with selected works by Carl Ciliax and George Turnbull
"Teamwork" acrylic by Cheryl Caldwell
"Playin' Hooky" colored pencil by Jamie Means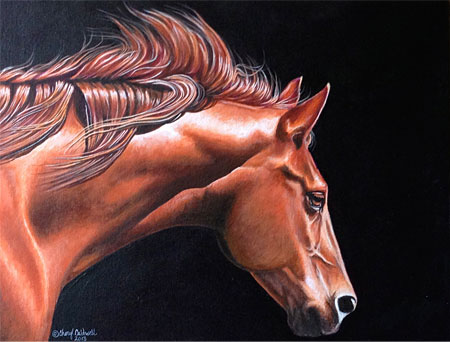 "Renoir" acrylic by Cheryl Caldwell
"Crossing Paths" colored pencil by Jamie Means
April's two featured Fine Artists have several important things in common. Both share a love of our country's western heritage. Both are drawn to its people and its animals. Both artists are multiple award winners and both of these amazing artists consider themselves "self-taught."
Yet Cheryl Caldwell and Jamie Means produce strikingly different work. The artistic mediums they use have very little in common, which is one of the many reasons this show has such dramatic appeal. Acrylics and pastels are Cheryl's mediums of choice, while Jamie uses colored pencils to bring his subjects to life.
Born in Minnesota, Cheryl Caldwell learned to love horses and her grandparents' farming life at a very early age. Though she was raised in San Diego, far from that farm, her heart never left it. She and her husband live on their own little ranch in Durham, California, where Cheryl is surrounded by the animals she loves to portray. Working from her real subjects and from her own photographs, she captures the beautiful essence of each animal with a skill that brings them vividly to life. Cheryl Caldwell's animals have individual personalities that pull the viewer into her powerful paintings.
Though Jamie Means is Alaskan by birth, most of his life has been spent in Northern California, where he trains quarter horses for reining, cutting, and general cow work. Falls are not uncommon to those who work with horses, and one of those falls resulted in a broken back for Jamie in 2001. After surgery, and during a lengthy recovery period, Jamie turned to his art. Working from a wooden form that allowed him to draw while lying on his back, Jamie began to master the art of colored pencils. The meticulous nature of the pencil perfectly suited Jamie's love of detailed accuracy in the western history he portrays.
To add to the drama of this show, on view will also be several selected works from two well known veteran artists, sculptor Carl Ciliax and painter George Turnbull.
Join us for the Artists' Reception, Friday, April 5th, from 3 to 7 p.m.
Gallery hours: Tuesdays through Saturdays, 1 to 6 p.m. during the show's duration.
NOTE: As a special treat, this show will run 7 weeks instead of the usual 3 weeks. This means the show will still be in the Gallery when the beautiful bronze public art sculpture "Sagebrush and Silence" is placed on its pedestal and unveiled in downtown Orland for the very first viewing on Saturday evening, May 11th, at 7 p.m. Its sculptor, Carl Ciliax, will be on hand for the lighting of the bronze as we honor his work and the bronze sculpture's many donors for their generosity and support.