Art Show & Sale:
August 6th through September 18th
"Rugged, Regal, and Reflective"
Featured Artists: Gary Baugh,
Donna Dutra, and Gerald Farren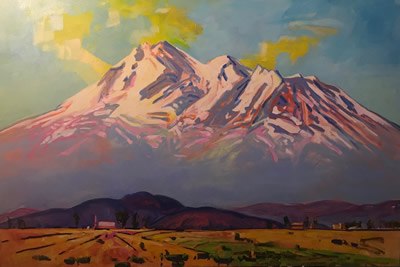 "Shasta from the North" by Gary Baugh

"The Three Little Wolves" by Donna Dutra
"Mystic Pony" by Gerald Farren
In their own Words
Gary Baugh: "The pandemic for me was like stepping into a creative black hole. I was 60 years old, locked down, home alone for over a year in a painting studio, with no adventure, no muse, wondering if I would ever have the opportunity to show my work again. I started going through old sketch books, re-drawing and re-thinking, which led to painting for myself, experimenting, thinking no one would ever see what I was creating. I painted a lot, which led to changes in my approach. Then the Orland Art Gallery director Rae Turnbull called, with a sudden change of schedule, and asked if I had enough work for a show. Did I! I had been painting with intensity, confidence, ambition and joy. In the year 2020, I changed physically and mentally, and finally proved one very important thing to me. I am a painter."
Donna Dutra: "My artistic mission is to enlighten the viewer, to create a clear awareness of the inherent spirit of the animals I choose to paint. I strive to use my talents and skills to capture their individual essence. I believe each of my paintings must have its own life and existence. I also believe the animals I paint should always be portrayed with the detailed accuracy they deserve. Then art and animal are both honored and well served. I am not a poet, and do not do well with words. In their place, I use my art to celebrate wildlife and preserve it. In a world where there is cruelty and the real danger of extinction, I focus on the essential beauty of each living creature I portray. My hope is that viewers see that beauty for themselves when they look at my work."
Gerry Farren: "I have a passion for historic figures and native cultures. Through the years, the many stories told to me by tribal elders inspired me to want to further explore the many facets of native traditions with my art. Out of a genuine respect for Native American cultures, I want to bring their fascinating tribal lore to life. To do so, my sculpture must always be based in realism, with my own unique creative interpretation. The purpose of my work is to convey impressions, of the past and the present, that touch the heart of the viewers and provoke their imagination and their enjoyment. I take pleasure in creating artistic pieces that have a familiarity about them. I want my sculptures to invite people to connect with them through their own experiences or dreams."
Meet and visit with each of the artists at the Orland Art Center Gallery
Artists Reception: Friday, August 6th, from 3 to 7 p.m.